Our story
Denis Rozon, owner and head guide at Timberland Tours started sledding at the age of 6. His mother ran a small team of dogs to transport their groceries to their cabin in the woods. When he was 12, Denis hooked up his pet Cocker Spaniel as his leader and a few of the neighbour's dogs to the sled and hit the trails.

After watching his cousins race their Huskies at a race in Maniwaki, QC, Denis was hooked. He entered his first race in Val D'Or, Quebec in 1973 and placed 3rd in the 3 dog category. By 1974 he was running a 6 dog
Fifty-Five Plus Magazine Article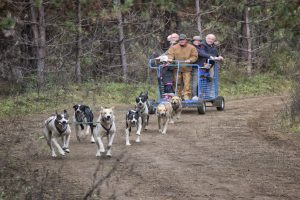 An iconic Canadian experience By Peter Johansen Denis Rozon points to a faded snapshot of himself at one and one-half years of age. Beside him sits one of his...
team of Alaskan Huskies and placed 1st in Amos, QC. Over the following 30 years, Denis continued to race and had many firsts, but the most memorable was when he won 1st in the race at the Verner, ON in 2001 with his special lead dog, Timber. Timber was smart, strong, fast and loved to lead- A perfect dog that only comes once in a lifetime. Timber continued to lead the team to great success in the following years.
By 2005, the taller, leaner, Eurohounds- a mix of German Pointer, Greyhound and Alaskan Huksy, dominated the racing scene. If you wanted to stay competitive in the sprint world you had to make the switch. Denis started to breed the Eurohounds for his racing team, but needed something for his retired Alaskan Huskies to do. He talked to some of his fellow mushers who ran tours in the winter and came up with a plan for year round tours. His dogs were bred and born to run so allowing them to live out their lives doing what they love and being able to share it with the public was a real gift.

In June 2008 Timberland Tours opened its doors to the public. "We started giving dryland rides with our retired racing dogs, pulling the big cart. The dogs love it every time they see a car pull up in the driveway they go nuts." Timberland Tours has been recognized as a finalist in the 2013 Tourism Awards Quebec. Timberland Tours has also had the privilege of giving tours to such notable people as; The Ambassador of the United States, Singer Isabelle Boulay, Comedian Dany Turcotte and Host from the TV show "Salut Bonjour" Marcel Bouchard. If you like dogs and enjoy an adrenaline rush, come on out and enjoy an experience of a lifetime!